The Star pub in Lidgate bought by villagers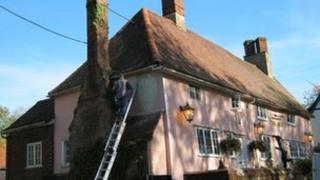 A group of villagers in Suffolk have got together and bought their local pub.
The Star at Lidgate near Newmarket had been owned and leased by Greene King, the Bury St Edmunds-based brewery.
Anthony Gurnstone, one of the buyers, said: "The reputation had gone somewhat and we didn't want to lose it when it was in danger of going the same way as so many pubs in the UK."
Seven people formed a consortium to buy the pub and run it as a free house.
Steve Cook, who had been managing the pub for the previous tenant landlord, became the licensee last week.
Mr Cook, who is a member of the consortium, said: "It's been chaotic, but it's been very busy and we're looking to get this pub back on the map with the locals.
'Like-minded people'
"We know the pub is going to survive and we're going to keep it that way for the foreseeable future."
He said the brewery had not put the pub up for sale, but they eventually accepted their offer, although he would not say how much the consortium bought it for.
Dr Gurnstone, who is a GP at a practice in Soham, said: "Leases are expensive to run, so it was really about getting a group of like-minded people together who were prepared to put some money up.
"I have my own business and most of us are used to how to structure and how to do it, but it's a completely different venture for us.
"We'd like to be able to do a micro-brewery and farm shops - lots of exciting things."
The pub was built in the 16th Century and it is a grade II-listed building in a conservation area.