David Croft: Richard Spendlove's tribute to writing partner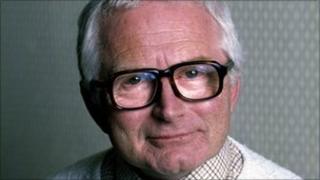 Richard Spendlove has paid tribute to his former writing partner David Croft, who has died aged 89.
The pair worked together on the BBC TV comedy Oh, Doctor Beeching - which drew on Spendlove's experience of working for British Rail.
"David Croft was a weaver of dreams," he said.
"You went to him with an idea and if he liked it and took it on, you knew it was going to be pure magic - and pure Croft."
Croft will be remembered for programmes including Dad's Army, Hi-de-Hi, 'Allo 'Allo and Are You Being Served?
Worldwide appeal
"I think people should remember David Croft for all the laughter that he's brought," said Spendlove, who now presents for BBC local radio.
"Not only to so many people, but to so many generations of people and in so many countries throughout the world.
"And it continues now. Somewhere, Captain Peacock is telling somebody off."
Oh, Doctor Beeching was first broadcast in 1995 and ran for two series.
"When the Oh, Doctor Beeching pilot went out it was the highest rated comedy pilot of the decade," said Spendlove.
"EastEnders left us 11.75m viewers and we kept 11.5m of them."
Spendlove said that early in their partnership, Croft had given him a script from 'Allo 'Allo to show him how they were written.
"I said to him 'I don't like 'Allo 'Allo', and he looked at me as though I'd gone mad.
"You don't like 'Allo 'Allo?'
"I said 'no, I can't get into it at all'. He walked off with a bemused look on his face.
"Ever after that he used to introduce me as 'this is my partner, the one who doesn't like 'Allo 'Allo.
"The thing was, after a while I watched them again and of course, like everything else, they are magic."