St Jude's Brewery turns to Felixstowe for its second pub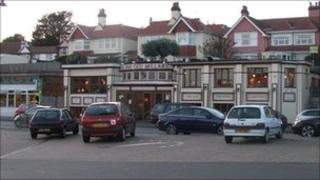 An Ipswich micro-brewery is preparing to open its second pub seven months after its first venture.
The St Jude's Brewery Tavern opened on St Matthew's Street, Ipswich, in February.
It is now taking over The Old Millars on Felixstowe seafront and hopes to move in by Christmas.
Frank Walsh, director of St Jude's, said: "There's a lot of people there with nowhere to go and they need somewhere with character."
BBC Suffolk has been following two pubs to see how they are faring as pubs across the UK are closing at a high rate.
Mike Keane, landlord of the Brewery Tap in Ipswich, said: "I think the pub industry in general is still pretty dire with 27 pubs going out of business each week and I don't think we'll see an improvement for at least 12 months."
Ahead of schedule
St Jude's said it will be spending £10,000 on the Felixstowe pub and will offer local and German beers.
Mr Walsh said "everything's on track" with the pub in Ipswich.
"We're about five months ahead of where we should be, so we're going to take the plunge with the second pub," he said.
"The standard pubs with the standard jaded brands are struggling because people can get those at the supermarket at a fraction of the price.
"With specialist pubs with real ales or German beers and a good location, you'll be fine as long as you keep it different and don't sell the same stuff as the supermarkets because they'll always undercut you."
Mr Keane, who took over the Brewery Tap on Ipswich dockside in 2009, said offering a mix of food and local beers had been the correct business model.
"Christmas 2010 was fantastic aside from thieves next door knocking out our power for the 23 and 24 December by stealing copper wire, which was inconvenient to say the least.
"For Christmas meals we were 150% more than the previous year, and we're already up to 50% of the bookings this year and it's only September."
The rise in VAT from 17.5% to 20% in January had a knock-on effect at the Brewery Tap.
Mr Keane said: "We've had to put the prices up and we crept over the £3 mark for most of the pints, but luckily it didn't take a dip in business.
"There's still a massive outcry from the pub industry to reduce the tax or increase it for supermarkets because there's a massive disparity there."