Mortgages offered to Suffolk people with disabilities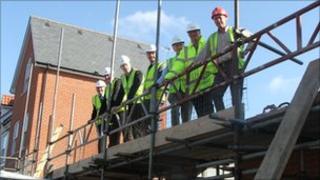 People with lifelong disabilities are being offered mortgages to part-buy their homes under a new scheme.
Suffolk County Council has set it up with Ipswich Building Society and social housing charities.
It aims to provide independence for people who would otherwise be in care, living with their families or renting.
Alex King, 27, from Lowestoft, said: "I needed to have more control over my everyday life and living in my own home gives me that."
Angela King, Mr King's mother, said: "Like any parents we recognised that our son needed his own space to do his own thing.
"Everything is tailored to him, whereas when he was in the residential home he was fitted into a busy schedule due to the number of other people living there."
New skills
Mr King, who has autism and was involved in a pilot project for the scheme, said: "It took me a little time to settle but it's much better now.
"I'm gaining new skills every day - some I'm not too keen on but they need to be done, like the hoovering and the dusting."
The county council said it has 400 people living in residential care and it recognised that private rented housing has been the only alternative for those people who wanted more independence.
Peter Tempest, the council's director for independence and wellbeing, said: "If you're in rented accommodation and your physical needs change, getting permission and finance to change the environment around you is very complicated.
"Owning your own home gives you a lot of stability, you're not at the mercy of a landlord, you can have a bespoke home to meet your own particular needs and it can be a home for your lifelong needs."
The Home Ownership for Lifelong Disabilities (HOLD) scheme offers people a chance to buy a 50% share in a property.
Mortgage repayments
The social housing charities, Orwell Housing Association and Saffron Housing Trust, build the homes and retain a 50% share.
Ipswich Building Society provides the mortgage while payments can be met by the Department of Work & Pensions with a guarantee from Suffolk County Council.
Ian Brighton, general manager, Ipswich Building Society, said: "It's an extension to our community ethos and we have a lot of experience in the shared ownership market.
"This is a specialised scheme that gives people the opportunity to own their own home and be independent in their own property with the care arrangements around them."
Orwell Housing is building eight homes for the scheme, while Saffron is building 25.
John Whitelock, director of new business for Saffron, said: "We're a non-profit organisation and these are proper, secure homes for somebody for the rest of their lives if that's what they choose."
Mr Tempest said: "People we've helped are transformed in their own belief in themselves and the carers see transformations that they couldn't have imagined."