Shotley community praised for erosion funding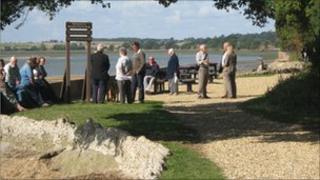 Residents in Shotley have been praised for helping to raise more than £100,000 to protect their coastline.
The Shotley Stour Footpath Renovation Group worked with local councils, businesses and environment groups to arrange the coastal erosion defence.
The group also oversaw the renovation of a picnic area at Shotley Gate.
South Suffolk MP Tim Yeo, Conservative, said: "It's a remarkable achievement for a place of this size to bring together so many organisations."
Gary Richens, Shotley parish councillor and chairman of the Shotley Stour Footpath Renovation Group, said: "We put a tremendous amount of work into putting erosion protection to the whole of Shotley cliff.
"Three years ago we set up a community group to see how we could raise money for this.
Wildlife concerns
"We very quickly found that by working with the statutory organisations who have an interest down here - the Environment Agency, Suffolk Coast and Heaths, Haven Gateway Partnership, Hutchison Ports - when we got our heads together they were actually happy to come in and fund some of the work we were doing.
"It's a very sensitive, ecological site.
"There is an RSPB reserve right on the edge of the cliff and we have to be mindful that whatever we do we don't disturb those birds."
Mr Yeo said the government would not have much money available to spend on coastal erosion projects in the next few years.
"My work in Parliament suggests the only solution is to engage local communities," he said.
"Government is always much more willing to provide support when they see the community also pulling their weight - that way you can join funds from other bodies, but the main spring of this has to be the effort made by the local community.
"I'm sure this will be an inspiration for other communities who are faced with the threat of erosion, when they see what can be done by a group of really determined and energetic people."