Ipswich flood defence work aims to protect dockside homes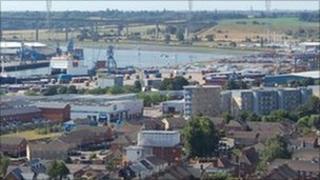 An earth embankment is being built at Ipswich's docks to protect homes and businesses from flooding.
The Environment Agency is spending £1m on the defences behind homes on Wherstead Road and through the West Bank Terminal.
The earth bank aims to protect homes against a one-in-100-year tide and storm surge.
Andrew Usborne, project manager for the agency, said: "It reinstates protection for 128 homes."
The earth bank is part of the Ipswich Flood Defence Management Scheme.
Mr Usborne said: "Since the existing flood defences were built 30 years ago, they have settled, so we're taking the opportunity to build them back up to the original level of 4.4 metres (14 feet)."
The £1m will also provide block paving and a tarmac ridge through the Associated British Port site and concrete kerbs and ramps through the Brett Aggregates complex.
The work should be completed by March 2012.
Work on a flood defence barrier across the River Orwell at the entrance to the New Cut is due to begin in 2014.