Ipswich Hospital boss responds to poor inspectors' report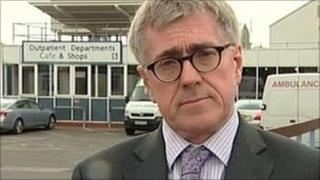 Ipswich Hospital's chief executive says a critical report into care of older people has set back its ambition to gain foundation trust status.
The Care Quality Commission (CQC) said standards in food & drink provision and patient dignity were not good enough.
The hospital expects CQC inspectors to return, unannounced, within a month.
Andrew Reed, chief executive, said: "That is the best way to give assurances to people that we have done the things that we need to do."
Following the CQC Dignity & Nutrition For Older People review which came out in May, the hospital said it has introduced measures to ensure patients have got call bells and drinks within reach at all times, that they have help with food and toileting and more flexible visiting times and that a complex care ward has been refurbished for patients with dementia.
Eileen Goodchild, 77 from East Bergholt, has dementia and was admitted to Ipswich Hospital in August with breathing difficulties.
Blistered mouth
Her family said they will be submitting a complaint after she ended up with a swollen and blistered mouth after eating a bar of soap which had been left on her pills trolley.
Sonia Hood, her daughter, said: "Every time we've gone there is very rarely a nurse on the ward, unless they're coming round to treat someone.
"You only need one person on that ward to keep an eye on things."
As part of its improvement measures, Mr Reed said head matrons should now be spending most of their time on wards.
The hospital has also pledged to spend £750,000 on more nurses.
Dr Dan Poulter, Conservative MP for Mid Suffolk and North Ipswich, said: "What came out of the CQC report was that front-line staff were let down badly by the management who had taken their eye off the ball about what the priorities are.
"It does appear they are beginning to get to grips with things and I think people can be pleased that the hospital is getting back on track, particularly with this area of elderly care."
Foundation status
Foundation trust status would mean the hospital would remain within the NHS, but be accountable to a local board of governors rather than the regional health authority or the Department of Health.
Mr Reed said: "It's a model that much better fits the hospital into the community where it belongs.
"We need to demonstrate to our community that we are a hospital that can provide a very good service so that [the CQC report] was a very big blow to us."
The hospital expects that Monitor, the government body which assesses whether NHS trusts can become foundation trusts, will make its decision by December.
The hospital, which has a £228m budget, has agreed with the government to make £16m of savings this year.
"We will have to look at costs right across the board, including management and admin costs," said Mr Reed.
"What I will guarantee is that I will be doing my utmost to ensure that we continue to provide the range of services that we currently provide."