Suffolk pub's former landlord banned over mouldy food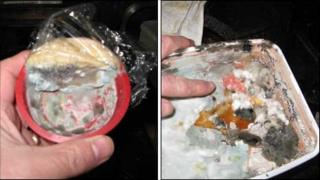 A Suffolk pub's former landlord has been banned from working at food outlets after council inspectors discovered one of the worst cases of food hygiene they had ever seen.
Environmental Health found food covered with deep mould and surfaces soiled with fly faeces at the Huntsman and Hounds at Spexhall, near Halesworth.
Lloyd Clarke, 54, of Ipswich, admitted 17 food safety regulation offences at Lowestoft magistrates on Thursday.
He was fined £1,900.
Inspectors visited the pub in December 2009 and found a filthy kitchen, Waveney District Council said after the case.
Hundreds of insects
There was evidence that proper cleaning and general food management had not been undertaken for weeks, if not months, inspectors from the council said.
The kitchen's tea towels and hand basins were filthy, food in a substantial state of decay was covered in a thick layer of mould and slime, and the fly-killer contained hundreds of insects.
Clarke's convictions related to various breaches including the lack of a proper food management system, filthy equipment and food unfit for consumption, the council said.
It explained the prosecution had taken more than 18 months because Clarke, of Fairfield Road, had failed to respond to a court summons, absconded and had to be arrested and detained.
Food safety officer Paul Goldsmith said: "This was the one of the worst cases of food hygiene failure I have ever dealt with, and the amount and nature of the unfit food on the premises was definitely the worst.
"Mr Lloyd had clearly allowed standards to slip for a long time."
Principal environmental health officer Tony Burgess, who accompanied Mr Goldsmith on the routine inspection, described it as an "extreme" case.