Royal Hospital School pupils discover GCSE results early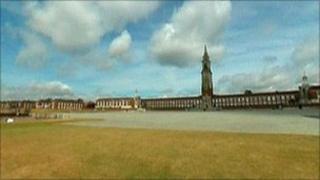 A school in Suffolk is investigating how pupils managed to access their GCSE results a day early.
Pupils at the Royal Hospital School in Holbrook were able to log on to the school's website on Wednesday and view their exam results.
Headmaster Howard Blackett said he did not know how many pupils were involved.
He said: "The school did not release any results early, this was pupils getting hold of their results when they shouldn't have done."
BBC Radio Suffolk contacted the school on Wednesday after reading posts on Twitter from pupils who had already seen their results.
"We shut off all access to our electronic systems from outside straight away," said Mr Blackett.
Hacking question
"We then deleted all the electronic store of the results and then we launched an investigation straight away.
"At the moment I don't know how the pupils concerned accessed the information, but they did somehow and that is much to my regret."
Exam board Edexcel said it is standard practice in England to electronically send results to schools the day before pupils are to receive them.
A spokesperson said: "The school are contracted to keep them private until that day."
Mr Blackett said he was not ruling out the possibility that the school website could have been hacked.
"I don't think it was a computer error," he said.
"I would not be surprised if somebody accessed the system somehow with a password or something that they shouldn't have had, but that is conjecture."