Blue Cross plans to leave Felixstowe for Foxhall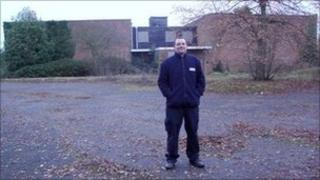 The Blue Cross animal welfare charity has submitted plans to leave Felixstowe and move to a larger building near Ipswich in a £2m project.
It will mean it can look after nearly twice as many cats and dogs.
Andrew Gillon, centre manager, said: "We have ambitious plans to build a flagship centre and it's really exciting to see them coming together."
The application for the new building in Foxhall is being considered by Suffolk Coastal District Council.
The site, called The Hollies, on Straight Road, is a former civil service sports centre.
The existing centre on Felixstowe's High Street had space for 12 dogs and 18 cats.
Public outcry
The new centre would have 21 dog kennels, 30 cat pens, a larger veterinary suite and more grassy space for exercising animals.
A proposal to expand the Felixstowe centre was turned down by the planning authority.
The Blue Cross was considering closing it until a public outcry made it abandon those plans in 2010.
Mr Gillon said: "We outgrew the Felixstowe site a few years ago and the amount of animals that need our help has grown quite dramatically."
People have already donated £60,000 for the Complete The Dream appeal.
If planning permission is granted, the Blue Cross will then buy the land and then continue fund raising.