Orfordness Lighthouse: last chance for the public to visit?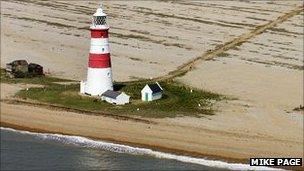 The Orfordness Lighthouse, which is threatened by coastal erosion, is holding what could be its last annual public open day.
The owner, Trinity House, is decommissioning it and is boosting the Southwold Lighthouse beam further up the Suffolk coast.
The event on Sunday could be the last time visitors get to look inside before equipment is removed.
Keith Seaman, the Orfordness attendant, said: "I certainly will miss it."
The first wooden lighthouse was established in 1637 and the current lighthouse was built in 1792.
A lighthouse keeper lived on site until it was automated in 1959, but it is now controlled remotely from Harwich.
The attendant is contracted to visit every three months for maintenance.
Mr Seaman, who also hosts the guided tours, said: "Most ships use electronic navigation aids such as GPS in the first instance, but if they fail, the improved beam from Southwold would compensate for the loss of the Orfordness lighthouse.
"I'd like to think we could have another open day another year, but we'll have to wait and see."
Trinity House said it expected the decommissioning process to be completed in 2012, when it will remove hazardous equipment.
Coastal erosion on the shingle spit has left the lighthouse just 20m from the shore.
The National Trust estimates that erosion of the land averages 4m a year.
The trust, which owns the rest of the 10-mile Orford Ness spit, is in discussion with Trinity House about taking over the lighthouse once it is decommissioned.
Nick Champion, from the National Trust's eastern office, said its approach to erosion would be to "let nature take its course".
He said: "It wouldn't be financially viable to protect the lighthouse with sea defences or move it.
"We would be keen to explore the possibility of saving certain architectural features of this iconic building, such as removing the top of the lighthouse and displaying it somewhere else on Orford Ness."
Related Internet Links
The BBC is not responsible for the content of external sites.