Ipswich's Umbrella Trust and Lighthouse Women's Aid get lottery cash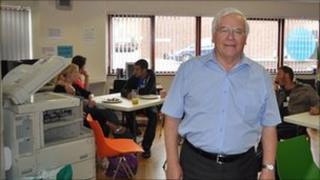 A centre for homeless people has secured funding which will keep it open for at least five years.
The Umbrella Trust opened premises in Blackhorse Lane in Ipswich town centre in January as a place for people to dry out, eat, wash and get advice.
It has been awarded £373,000 from the National Lottery.
Meanwhile, the domestic violence charity Lighthouse Women's Aid has been awarded £300,000 for a new Women and Children's Wellbeing Centre in Ipswich.
The Umbrella Trust said it still needed to raise an extra £17,000 a year to provide its services, which include dealing with issues such as alcoholism.
Roger Fern, chairman of the trustees, said: "We've got some quite challenging targets and milestones to meet, but just knowing we're OK for five years takes off a huge burden."
"Steve", who is homeless and has been using the Umbrella Trust centre while sleeping in a park, said: "For some people who are very vulnerable, the centre is a lifeline. I don't come here every day, but I can just check my post and sometimes you need a meal and a shower."
Lighthouse Women's Aid (formerly Ipswich Women's Aid) is a charity that helps victims of domestic violence or abuse by offering two refuges and a drop-in centre.
Jacqui Worbey, community services manager with the charity, said: "The underlying work is going to be around domestic violence, but we're going to offer it to everybody if they want to come in for a yoga class, home economics or DIY."