Suffolk street lights turned off to reduce energy bills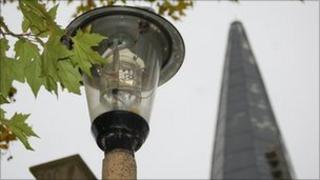 A scheme to turn off street lights at night is on course to save £550,000, Suffolk County Council has said.
The council is turning off or dimming many of its 55,000 lights and claims it has not had an effect on crime rates.
When the scheme is rolled out in full, the council said it would make the savings.
Councillor Guy McGregor said that since a similar scheme was began in Essex evidence suggested a "reduction of low-level crime and anti-social behaviour".
After testing the new £1m "intelligent" lighting system in Needham Market and Brandon, the council plans to introduce it in stages in larger places, Ipswich and Bury St Edmunds, this week.
Main roads will remain lit up, but residential streets will see changes between midnight and 05:00 BST.
'Flexible system'
Mr McGregor, who is responsible for the street lights policy, said: "People think it's a good idea to save money and reduce the carbon impact.
"The [estimated] savings were based on the old prices, but the savings will be even greater with the new hike in prices by the energy companies."
The council said the system is flexible and they can turn lights back on at night if there is a need.
Daphne Savage, chief executive of Age UK in Suffolk, said: "Among older people there is this disproportionate fear of crime compared with the actual levels of crime."
"If things are happening that cause you worry, then talk to your councillors and make sure they know."