Suffolk church buildings to be fitted with solar panels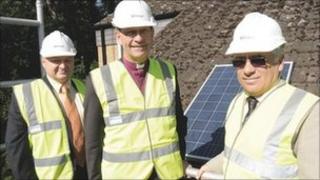 Solar panels are to be fitted to about 180 properties owned by the Church of England in Suffolk.
Between 10 and 16 photovoltaic panels will be installed on clergy houses and other selected church buildings.
Nicholas Edgell, secretary of the Diocese of St Edmundsbury and Ipswich, said the scheme would save money for the Church and help the environment.
"The scheme will save something like 1.5 tonnes of carbon per house - it's a very large saving indeed," he said.
Mr Edgell said MY Group, based in Norfolk, would buy and install the panels.
'Feed-in tariff'
"They're treating it as an investment," he said.
"The government has established an income arrangement for people who install these things, known as the feed-in tariff, and MY Group will be the recipients of the feed-in tariff for the next 25 years.
"That will be enough to return their funds to them plus a profit."
Nigel Stock, the Bishop of St Edmundsbury and Ipswich Diocese, said the 478 Anglican churches in the county will also be considered for solar panels.
"It doesn't necessarily work on every building, and the grading and state of their roofs might make things difficult," he said.
"Apart from the real help it will give clergy in homes, and to churches eventually, in reducing costs, we're also contributing such a great deal to the environment."
Martin Renforth, managing director of MY Group, said: "It's going to benefit the individuals for electricity and it will benefit the churches because it will help reduce their costs."