Waveney Gymnastics Club starts countdown to 2012 Olympics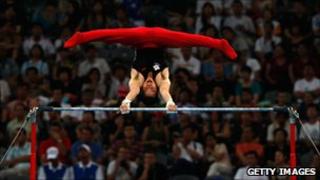 In less than a year, a purpose-built gym in Lowestoft will play host to some of the best gymnasts in the world.
Waveney Gymnastics Club will be used as a training camp for Australia's male gymnastics team in the build up to the London Olympics.
Canada's gymnasts will also train at the venue and Japan's trampoline teams are visiting next month.
Chloe McMorran, centre manager, said: "For countries to recognise the club as a world-class facility is excellent."
The club is a recognised pre-Games training camp and will provide catering and arrange accommodation for visiting teams, as well as the training facility.
Dependent on them qualifying for the Games, teams using Waveney are likely to arrive at the start of July 2012.
'Unique opportunity'
"It's going to be a lot of hard work for us a club but the outcome is going to be fantastic," said Ms McMorran.
"It's a unique opportunity and a fantastic event for the country.
"But to have a small part of that in Lowestoft to benefit the district, the county and even the region means so much for the club.
"It will inspire local people beyond 2012, no matter what age or background, to take part in sport, particularly gymnastics."
Adam Baker, Suffolk project manager for the 2012 Olympics, met with Canadian representatives on their visit to Lowestoft.
"The Canadians are very impressed with the support from Waveney Gymnastic Centre and Waveney District Council," he said.
"They like that the fact it's away from London, away from the hustle and bustle, but yet within really easy reach of the Games."
Waveney District Council says the association with the Olympics will benefit the local community and economy.
Asa Morrison, principle service manager for culture, tourism, sport and leisure development, said: "In terms of a direct economic impact, people who come over are going to eat, drink, make use of medical facilities if required.
"The bigger one is increasing the overall awareness of Lowestoft, in terms of raising its profile through the Japanese, Canadian and Australian media.
"If it's good enough for Olympic athletes, perhaps it's good enough for a short break or longer visit.
"The social side is rather wonderful, but is very much on the aspirational.
"Britain's most easterly town in Lowestoft has got the calibre of gymnastics club to attract athletes from around the world - the highly talented sports people setting the high level of aspiration for the local population to aspire to in the future."