EDL founder Stephen Lennon guilty over football brawl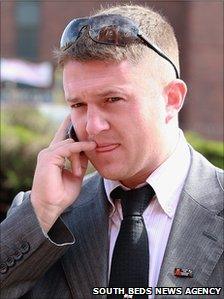 The founder of the English Defence League has been convicted of leading a brawl involving 100 football fans.
Stephen Lennon, 28, led Luton Town supporters and chanted "EDL till I die", as they clashed with Newport County fans in Luton, a court heard.
Lennon, from Luton, was found guilty of using threatening, abusive or insulting behaviour on 24 August last year.
He was given a 12-month community rehabilitation order and a three-year ban from football by Luton magistrates.
He must also carry out 150 hours of unpaid work and pay £650 in costs.
He denied the charges but was convicted after a trial.
Outside court he said he was being persecuted for his right wing beliefs.
"I am being done for what I am saying rather than what I am doing," he said.
"In the last 12 months I've been banned from protesting, going to the football and my assets have been frozen. It is a police state."
Lennon, a father-of-three who got married on Saturday, was arrested by officers who told him he was being taken into custody for suspected actual bodily harm from an outstanding allegation, which was later discontinued.
The court heard the defendant was "egging on" and "upping the ante" as the two sets of fans fought.
'Incredibly intimidating'
Luton Magistrates' Court was told he had been at the front of the group of Luton fans and gesticulated "come on then" at his opponents.
Timothy North, prosecuting, said two groups of opposing fans appeared close to Luton Town's Kenilworth Road ground five minutes before the evening kick-off.
"Officers noticed the presence of Mr Lennon in the group, at the head of the Luton Town supporters," he said.
"The impression was he was egging them on. At one stage he was alleged to have shouted the words 'EDL'."
Mr North said "there would have been a substantial degree of fighting" if police had not intervened.
However, a brawl involving about 100 fans did erupt, with only seven officers present to deal with it.
PC Robert Field, who was an acting sergeant in charge of six colleagues, said the officers wielded their batons in a bid to stop the men fighting.
He described the situation as "incredibly intimidating" to the public and said it was "clearly going to get out of control".
PC Field said: "[Lennon] was a prominent person at the front of the group, giving a 'come on then' gesture.
"I could see he was being looked at; he was holding the line of the Luton fans.
"He was being looked at to say: 'Do we go now?'."
Lennon was the only person charged over the incident.
District Judge Carolyn Mellanby told him: "I am entirely satisfied you were at the front of this group of angry Luton supporters looking for trouble when you were confronted by the group of Newport supporters who were also angry and fired up looking for trouble."
Related Internet Links
The BBC is not responsible for the content of external sites.