Ipswich campaigners tell planners 'jobs not houses'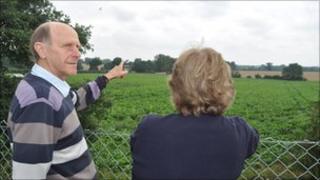 Campaigners say there is no proven need for the amount of new housing that is being proposed for Ipswich.
The government's Planning Inspectorate has held a public hearing about Ipswich Borough Council's Local Development Framework (LDF).
The council's plan allows for 15,000 homes to be built by 2027, including 4,500 on the "northern fringe".
Save Our Country Spaces (SOCS) says not enough jobs are being created to sustain that level of development.
Richard Green, chairman of SOCS, said: "In the boom times before this recession, that's when the houses were built down the dock area, but now we're in the bust situation, those flats are standing empty or put on hold as you can see by some of the skeleton buildings.
"But in the present climate, the jobs are not there, so this is just being driven by the government to kick-start the economy.
Inspector's decision
"Apart from the northern fringe, where are all these 700 houses a year going to go?"
The northern fringe is an area stretching from Whitton to Rushmere and on to Martlesham in the Suffolk Coastal District Council area.
The planning inspector is considering the evidence presented at the Core Strategy Examination held in public between May and this month.
She can suggest changes to Ipswich Borough Council and could decide to hold further public hearings before making her final decision on whether the LDF is sound or not.
Ipswich Borough Council has been unavailable for comment.