Work begins on Stowmarket The Mix youth centre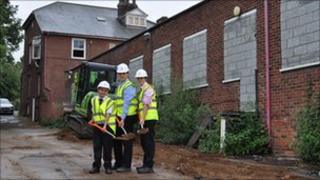 Building work has started on a £5m youth centre in Stowmarket.
A ceremony has been held at the derelict premises on Ipswich Street, which will be called The Mix.
It will be for 11 to 19 year olds and will feature a digital art studio, a cafe, performance and sports hall and advice service.
Charles Baldwin, 15, who has been involved in the project, said: "This is a place where you can hang out with friends - a safe area."
The Mix is funded by the Department for Education's MyPlace project.
Suffolk County Council owns the building and is overseeing the work, although the plan is for a community interest company to take over eventually.
Anti-social behaviour
Teenage advisor James Simpson, 15, said: "For many years there hasn't been much to do, everyone's been hanging around the streets and this is going to improve Stowmarket a lot."
Charles added: "There is cubs and scouts, but nothing really for the age group of about 14 and above.
"This will provide a place where they can go and just encourage them not to do any anti-social behaviour."
Kieran Gregory, 15, said: "We want it to provide somewhere for young people to do things which they wouldn't usually do."
The project is starting at a time when another building in the town centre is being converted into the John Peel Centre for Creative Arts.
Adri van der Colff, project manager for The Mix, said the two centres should complement each other.
'Safe environment'
"The John Peel Centre will provide a platform for a variety of performance-based activities and The Mix will be specifically for young people.
"They'll be able to cut their teeth and learn their craft in a safe environment among their friends and then gain enough confidence to try it out in a bigger arena."
Nick Fayers, managing director from Barnes Construction, said: "The next stage is to put together a plan to involve the young people during the construction phase.
"We're hoping to get them on site to carry out various tasks."
The construction company said it expects the centre to open towards the end of 2012.