Suffolk man jailed for murder and knife attack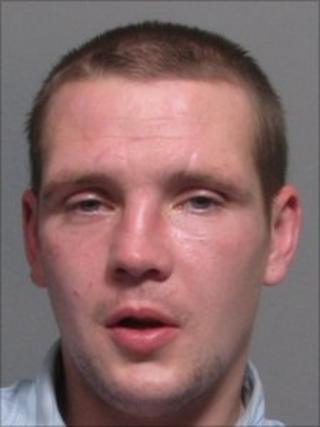 A man who killed his girlfriend and slashed another woman less than six months after being cleared of murder has been jailed.
Drug addict John Grimwood, 29, was cleared last August of murdering Rose Hunt in Ipswich.
But he went on to stab to death Alison Studd, 36, in January 2010 and on the same day attacked another woman, Carrie Talbot, with a craft knife.
He was jailed for a minimum of 20 years at Ipswich Crown Court.
Witnesses said Grimwood, of no fixed address, had been "stoned and drugged out of his head" when he carried out the attacks.
Ordering him to serve at least 20 years of a life sentence, Judge John Devaux told Grimwood: "You have a history of violently abusing your partners, a history of carrying weapons and a history of drinking to excess."
He added: "You are 29 years old and there are now 69 criminal offences on your record. There was more than one victim that day."
At an earlier hearing at Ipswich Crown Court, Grimwood, 29, pleaded guilty to Miss Studd's murder.
He also admitted wounding with intent to cause grievous bodily harm - an incident which occurred less than two hours before the murder.
Horrific cuts
The court heard Grimwood had slashed Miss Talbot four times with a knife in Ipswich on 26 January, 2010.
Prosecutor Steven Dyble said: "He caused horrific cuts which have left unsightly scars."
Grimwood then went to a house in the town to meet Miss Studd. The pair had a row and he slashed her below the knee.
The knife cut a varicose vein and Miss Studd, a mother-of-two, died the next day.
Mr Dyble said Grimwood lived in a subculture of "alcohol and drug abuse".
He added: "His record shows he was almost habitually armed with a knife when in public."
He also said that Miss Studd had complained that Grimwood would regularly beat her.
His attack on Miss Talbot may have been motivated by the fact she had given a statement to police as part of another investigation, Mr Dyble said.
Simon Spence, in mitigation, said Grimwood had not intended to kill Miss Studd.
Last summer, Grimwood went on trial along with Paul Clarke, 41, and 16-year-old Lorraine Thorpe, both of Ipswich, accused of murdering Mrs Hunt, 41.
Her body was found close to her home in Ipswich.
Clarke and Thorpe were found guilty of killing Mrs Hunt and of murdering Thorpe's father, Des Thorpe.