Latitude Festival: New bridge opens at Henham Park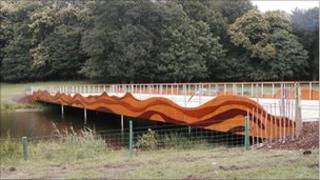 A new, permanent, bridge has been built at Henham Park near Southwold ahead of the sixth Latitude Festival.
The Writer's Bridge has been paid for by Festival Republic, which recently signed a deal to host Latitude at Henham for a further 15 years.
Melvin Benn, Festival Republic's managing director, said: "I imagine there will be 400,000 journeys across it over the weekend."
The festival of music and arts takes place on 14-17 July.
Until now, the bridge across the lake had been a pontoon erected specifically for the festival.
This will now be a secondary bridge, further down the lake towards the Sunrise Arena.
"Last year, at times, just the amount of people who were on the floating bridge meant it was under pressure so it was one of the things that I wanted to do in terms of permanence when I got the 15-year lease," said Mr Benn.
"I've called it the Writer's Bridge because poetry and literature are very much at the heart of Latitude."
Hektor Rous, estate manager at Henham Park, said: "There's nothing that's been scrimped or saved on this permanent bridge and I think it looks stunning.
"It's also doing something which fits into the landscape and I am very proud of the work they've done here."