Suffolk libraries: plans for new organisation and local control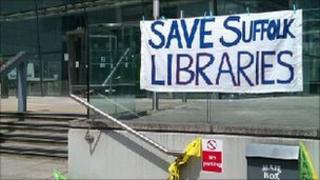 Plans to put financial management and staffing of Suffolk libraries under a central organisation outside the county council structure are to be drawn up.
It is proposed to hand the running of individual libraries to town or parish councils, community or staff groups.
Ideas will be put to Suffolk County Council's cabinet on 19 July and the aim is to retain the existing network.
A four-month public consultation in which 5000 people expressed views, led to the new overall recommended plan.
A final report will be presented to cabinet in November on the best operating model after a number of different proposals are evaluated.
Judy Terry, responsible for libraries, said: "This is a decision that will affect us all so it's important we are all part of it.
"Many of the ideas and principles within the proposal have come from communities themselves.
"Building on libraries as community hubs, supporting outreach work and enabling pilot projects to flourish were all things people told us they wanted.
"Most important of all was not closing any of Suffolk's libraries.
"We feel the proposals being put forward strike the right balance between protecting much-loved council services whilst finding necessary and unavoidable financial savings."
The changes to Suffolk's library services will mean the council is able to save 30% of its libraries budget over three years (2011/12 - 2013/14) whilst keeping the county's libraries open.
Suffolk County Council would retain its role and responsibilities as the statutory library authority for the county.