Firm welcomes E. coli seeds ban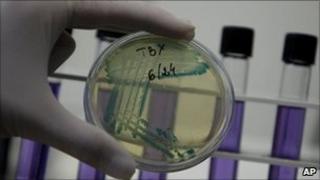 A Suffolk seed firm accused over E. coli in France has welcomed a report by the European Food Safety Authority linking the outbreak to Egypt.
A French government minister claimed the outbreak in Bordeaux on 24 June was caused by sprouting bean seeds supplied by Ipswich based Thompson and Morgan.
The firm denied any blame and said the seeds had come from Egypt but withdrew them immediately.
After an investigation the EU has banned imports of the seeds from Egypt.
Thompson and Morgan said it welcomes the EU Commission's temporary ban on imports of Egyptian seeds and beans for sprouting.
Investigation continues
A statement said: "Thompson & Morgan has, up until June 24, sold a range of organic sprouting seeds only in France and in response to specific French market demands.
"The organic fenugreek seeds in that range were imported into Germany from Egypt by an accredited company, specialising in food products.
"In turn, it supplied some to Thompson and Morgan for sale to our garden centre customers in France.
"Our supplier is a well established and regularly audited company that holds an international food standards certificate.
"The supplier provided documentation to Thompson and Morgan to confirm it had tested the sprouting seeds and certified them to be free of contamination - specifically including E. coli.
"Thompson & Morgan believes removing the seed from sale in France was absolutely the correct course of action."
Chief executive John May said: "Whilst the Food Standards Agency, European Food Safety Authority and other interested parties continue to investigate the cause of this E. coli outbreak, we will continue to do everything we can to assist."