Bin a Blade amnesty collects 4,300 knives in Suffolk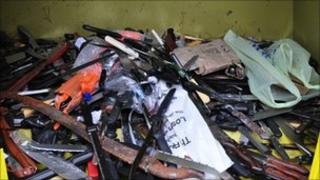 More than 4,300 knives have been collected in the first six months of a year-long amnesty in Suffolk.
Suffolk Police set up four permanent collection points and two mobile bins as part of the Bin a Blade campaign.
The amnesty has been publicised by teenager Holly Watson, whose brother Lewis was fatally stabbed in 2009.
"I think it's amazing how many knives have been handed in," said Ms Watson. "Every knife taken out of circulation could be a life saved."
Ch Insp Steve Mattin, lead co-ordinator of the campaign, said: "When we started we didn't think we'd see so many.
"It's fantastic - it's given the public and the community the chance to get rid of their blades."
'Safer position'
Ben Gummer, MP for Ipswich (Conservative), said Ms Watson was "amazing" and that he would recommend the amnesty to be held around the country.
"With all of these knives being taken off the street we're in a safer position than we were six months ago.
"I will take it forward to other colleagues and ministers who have constituencies in areas where there is a significant problem and say 'look, this might be something for you'.
"Many people in these gang-type situations who don't want to carry knives end up doing it just because everyone else is."
The knives and blades collected will be shredded once the amnesty ends in December.