Going Somewhere evening bus introduced in rural Suffolk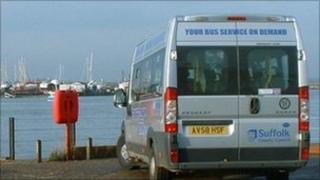 A weekend evening bus service is being introduced in rural Suffolk after requests from local teenagers.
The subsidised Going Somewhere scheme runs between Framlingham, Saxmundham, Leiston and Aldeburgh until 11pm on Fridays and Saturdays.
Murray Staines, bus company manager, said: "Young people are saying they can't get out and about because there's no public transport."
The bus has to be booked and it will stop wherever it is needed.
The new service has been funded with £22,000 from the Suffolk Coastal Local Strategic Partnership.
The minibus is operated by the Coastal Accessible Transport Service (CATS) and the fares are the same as the daytime services it runs.
'Pub bus'
Suffolk Coastal District councillor Doreen Savage, Conservative, said: "As well as providing the spark by letting us know that this service was necessary, young people have also played a key role in designing the leaflet that has been produced to publicise Going Somewhere."
Although the scheme is inspired by young people, there are no age restrictions and anyone over the age of eight can order the bus.
Mr Staines, business development manager for CATS, said: "They are saying they will use it to get to the cinema, go swimming, football clubs and this sort of thing.
"I've got a horrible feeling it may become known as the 'pub bus', but the youngsters themselves have said there is a need for it."
The organisers said that if the Going Somewhere bus proved successful, it might be introduced in other parts of the district.