Film actress Jean Kent honoured by BFI on 90th birthday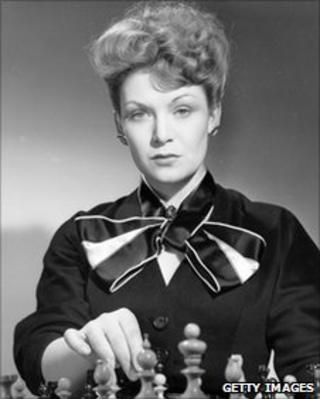 Actress Jean Kent is to be honoured by the BFI on her 90th birthday.
Kent, who lives near Stowmarket, Suffolk, starred in 45 films alongside actors including Rex Harrison, Laurence Olivier and Marilyn Monroe.
She will be the guest at a British Film Institute (BFI) screening of one of them, Caravan (1946), at the National Film Theatre on London's South Bank on Wednesday evening.
"It's very nice of them to give me this accolade," she said.
Kent played a Spanish Gypsy in Caravan alongside Stewart Granger, Dennis Price and Sir Robert Helpmann.
Music hall girl
"I was never a big singer - I had what they would call a 'pretty little voice'. I was a better dancer than singer," she said.
"My favourite film was Trottie True (1949) because that was most like me - a music hall girl."
Kent was born in Brixton, south London, into a theatrical family and she performed, as a 13-year-old, at the Windmill Theatre in London's West End.
After the war she became a star as a regular fixture in the films made at the Gainsborough Studios, which included The Wicked Lady.
The former Daily Express film critic Michael Thornton will be introducing the birthday screening of Caravan.
As an eight-year-old boy in Brighton in 1949, he was in a crowd of 4,000 to 5,000 people who turned up for a personal appearance by Kent, which led to police officers linking arms to get her into the cinema.
'Bodice-rippers'
"The war had only just come to an end, the country was broke, ration books and austerity reigned supreme and there appeared to be more bomb sites than actual houses," said Mr Thornton.
"I think the glory of those rather extraordinary, fantastical, testosterone-drenched, overblown and highly romantic 'bodice-rippers' is that they took people's minds off a really very tough situation.
"Since then film historians have critically re-evaluated this era and, instead of saying 'this is a load of tosh and tripe', they've realised these were expertly crafted, highly successful films."
Kent starred alongside Marilyn Monroe and Laurence Olivier in The Prince & The Showgirl (1957).
"We were supposed to do a musical number in that, with me doing the song and she was mucking it up at the back, but it was cut because they ran so over budget," Kent said.
"She wasn't very well and not an easy person and Olivier, who was directing, had a quite a lot of difficulty."
Farm girl
Kent met her husband Josef Ramart on the set of Caravan and they married four months later in 1946, with Stuart Granger as best man.
They bought a farm near Sudbury, Suffolk in the 1950s and stayed there for 20 years until they moved to Westhorpe, where she still lives. Her husband died in 1989.
Kent also had a television career, which started in the mid-1930s in a musical called The Ship In The Bay which was broadcast live.
Post-war television shows included Up Pompeii!, Crossroads and Lovejoy.
She said she is still available for work.
"Oh yes, I'd work like a shot, as long as I didn't have to walk.
"A nice sitting-down part would be fine."