Suffolk schools closed by strike action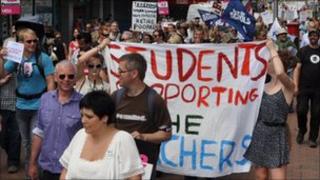 Over half of the schools in Suffolk are affected by strike action by two teaching unions over future pension plans.
Suffolk County Council's website states that 90 of the county's 356 schools will be closed - with a further 90 offering a reduced number of classes.
The National Union of Teachers (NUT) and the Association of Teachers and Lecturers Action (ATL) are walking out.
Around 300 people marched and held a rally in Ipswich town centre.
Civil servants, who are members of the Public & Commercial Services Union (PCS), are also striking over the government's proposed changes.
Graham White, county secretary of the NUT, said: "I'm pleased that schools are being affected, because this is helping get our message across, but I am unhappy that we have been forced into this situation due by the government's intransigence.
"The government is making claims that the pension scheme is unaffordable and as yet has not presented any evidence whatsoever to back that up.
'Affordable' pensions
"Teachers are fed up with the government lying to them and they are fed up with being treated the way they have been treated.
"The pension scheme is affordable, it is sustainable, and we don't want the government threatening to increase the contributions, making teachers work longer and actually paying them less."
Suffolk County councillor Graham Newman (Conservative), portfolio holder for schools, said: "We're all living longer and all those predictions about financial growth have clearly changed.
"This is a problem we've got to address because there's huge disparity in the pension system between the public and the private sector and if we don't resolve that we're going to get more and more into trouble going forward.
"I would like to thank those teachers who have considered what these issues are and have decided not at this time to take strike action.
"At the end of the day, they're damaging the children who will be paying their pensions."
Unions and supporters will be holding a march and rally in Ipswich town centre.