Former soldier Alf Arnold pays tribute to fallen friend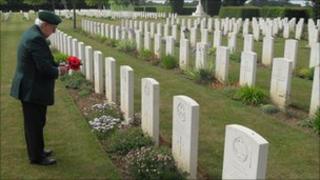 A former soldier has described revisiting the area of France where his close friend and ally was killed in World War II as a "sobering experience".
Alf Arnold, who is 85 years old and lives in Kesgrave, Suffolk, returned to northern France last month with the help of the Big Lottery's Heroes Return programme.
He visited the British cemetery at Banneville-Sannerville, where his friend Cyril Chugg is buried.
The two shared their early experiences of Army life, but a fateful instruction from their regimental sergeant major (RSM) led to them being separated forever.
Chance encounter
Mr Arnold volunteered for the Army in 1943. For the first time in his life he boarded a train and headed to Fulford Barracks in York.
While changing at King's Cross station he met Mr Chugg, who was also heading to York.
"There was another chap on the platform also wearing Home Guard uniform, and round about the same age, so we sort of sidled up close together," said Mr Arnold.
"For the next 14 months, because we were too young to join the service battalion, we did our training together."
The pair were on leave when their regiment, which was part of the 7th Armoured Division, was held up in Normandy.
They were called back and travelled to France, where the battalion had been withdrawn.
"I was standing next to my mate Cyril, the RSM came along to allocate people to different companies.
"We were standing together and he put his hand down between the two of us. I went to A company and Cyril went to I company.
"That night, there was quite a lot of shouting and in the morning I found out that Cyril had been killed that evening."
Last month Mr Arnold visited Caen, Aunay-sur-Odon and Banneville-Sannerville.
"I was really keen on going but was wondering all the time what sort of effect it would have on me," he said.
"I would never have believed it would have the effect that it did have - things were so different to what I expected.
"The only memories I have of Caen were the night before we went in there was a 1,000-bomber raid and it was virtually a heap of rubble.
"Now it's a beautiful city, everything is modern, a wonderful place to go.
"So was Aunay, where I actually joined the battalion. There was a field, banging, slit trenches - now, on market day, throngs and throngs of people, stalls everywhere.
"We had a wonderful day there and the military side of it almost disappeared.
"Then on Sunday I took all my regimental regalia, like my blazer, green beret and my medals and it became a different thing.
"We went to Banneville-Sannerville where Cyril is - there are 2,175 graves.
"I took a big box of the little crosses with a poppy on, and a special one of six poppies in a nice bouquet for Cyril's grave.
"Wherever we saw a rifle brigade stone I put a cross down. I got rid of all of them.
"When I actually laid the wreath on Cyril's grave and gave him an exaltation that we do in the British Legion, I cracked up then I'm afraid."