Ed Sheeran's debut single The A Team at number three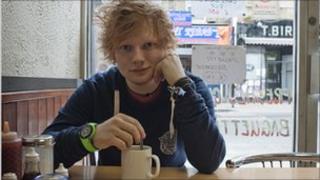 Ed Sheeran says he is delighted to have reached number three in the UK singles chart with his debut release.
The A Team sold 57,607 copies in its first week but was beaten by Calvin Harris and Example.
Ed, 20, said: "It's cool to have a song in the top 10 that isn't a dance tune and I really appreciate that people took a risk on the song.
"Having a song about a heroin-addicted prostitute get mainstream success is a really cool thing I think."
The A Team was originally part of last year's Loose Change EP, one of five releases the Framlingham singer self-funded before signing a six-album deal with Atlantic Records at the start of 2011.
The chart position was confirmed on Sunday morning.
"I got a text from my manager with the figures of what we'd sold and what everyone else had sold," said Ed, who celebrated the news with a milkshake on Falmouth beach.
"It had been number three since Wednesday, so I was still incredibly happy but not as surprised as I was on Tuesday when I found out the midweek.
"It's a really respectful number to go in with a debut single."
Six interviews a day
Ed said releasing a single with the backing of a major label was a very different experience to doing everything himself.
"It was a lot more involved press and media wise," he said.
"I was up and down the country touring and doing six or seven interviews a day. It's been a very full-on experience but a very cool one.
"This the first benchmark and people are starting to hear my name about - so the next single will be the next step and the album will be the big leap."
Ed's debut album for Atlantic, +, is due out on 19 September.
Before then Ed has a busy summer playing major UK festivals, including a homecoming performance on the main stage at Latitude.
He starts the festival season with six performances ("there might be a couple more") at Glastonbury, where he will headline the BBC Introducing stage on Friday night.
"BBC Introducing has been really supportive of me in the past and it's nice to be given a chance to showcase that on a bigger stage," he said.