Stowaway monkey on container ship bound for Felixstowe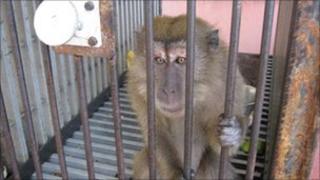 A stowaway monkey will be saved by Suffolk Trading Standards officers when it arrives at the Port of Felixstowe on a container ship from Malaysia.
Officers were alerted to the macaque monkey by crew members on board the vessel Skagen Maersk.
They found the animal shortly after setting off on their voyage on 27 May.
Under UK rabies rules, monkeys are only permitted to be imported at specified airports, requiring an import licence and six months' quarantine.
The Port of Felixstowe is not approved to import animals and so bringing an animal ashore there would be classed as an offence.
'Quick-thinking'
But Suffolk Trading Standards officers have been working with Animal Health and the UK Border Agency to allow the monkey to be transported from Felixstowe to the Wales Ape and Monkey sanctuary at Caehopkin, near Swansea.
The ship is due to dock at 1900 BST on Tuesday.
Peter Korwin, principal trading standards officer, said: "Trading Standards play a very important role in animal disease control, which helps protect both public and animal health.
"We commend the ship's crew for their quick-thinking in securing this macaque monkey and for alerting the authorities.
"When incidents are reported to us which pose a potential animal disease risk, we will always treat them as a matter of very high importance."
A spokeswoman for Suffolk Trading Standards said that homes were found for animals arriving at the port wherever possible, and that it was rare any animals were put down.