Boost to campaign for broadband in Suffolk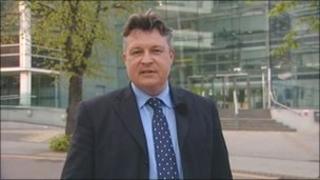 The campaign to bring the broadband speed for internet users in Suffolk into the 21st Century has been given a £10m boost.
Suffolk County Council has agreed to invest the money in the project.
Suffolk currently has one of the poorest broadband networks in England, with the average broadband speed under 5Mbps.
The government is hoping the speed of broadband can be increased to 100Mbps across the country.
The total cost of the project for Suffolk is £41.7m and the county council is hoping to get support from the government.
'Strong message'
Council Leader Mark Bee said: "Today we sent a very clear message about Suffolk's intentions and commitment to delivering better broadband.
"The county council, borough and district councils, MPs and local business leaders have come together to make this happen for Suffolk and the county's residents."
Andy Wood, chair of the New Anglia Local Enterprise Partnership and chief executive of Adnams brewery, said: "I feel this sends the strongest message possible to government that all of the partners in Suffolk are absolutely serious about this project.
"Delivering it will be one of the most important things to happen in Suffolk for many years."