Babergh and Mid Suffolk council merger rejected in poll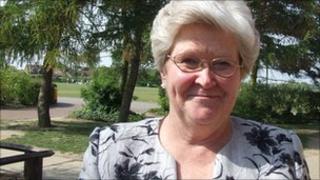 Voters in Suffolk have said two councils should not merge and create a single larger local authority.
A local poll was held throughout May in the Babergh and Mid-Suffolk districts where the councils already share a chief executive.
Of the 64,069 people who voted, 50.3% said no to a full merger, with 49.7% saying yes.
There was a majority for the merger in Mid-Suffolk, but it was outweighed by a majority voting against it in Babergh.
In Mid-Suffolk, 32,061 people responded with 59.9% voting yes and 40.1% voting no.
In Babergh, 39.1% voted yes with 60.9% voting no, with a turnout of 31,468.
'Extremely disappointing'
Supporters of the merger claimed a single authority could save £1.8m a year.
Councillor Tim Passmore, Mid Suffolk's Conservative leader, backed the yes vote.
"It is extremely disappointing that we have a split view," he said.
"We still face the difficult challenge of meeting very demanding financial savings while delivering front-line services and it is unfortunate that we cannot work more closely to achieve our radical and innovative idea for merger."
Both districts are still looking to integrate their services, but the two councils will remain separate legal entities.
Councillor Jennie Jenkins, Conservative group leader at Babergh, had also backed the idea.
"Local people have spoken and those in Babergh are telling us not to go for merger," she said.
Car park charges
"Both councils will need to confront some difficult decisions in making their books balance over the years ahead."
However, Councillor Sue Carpendale, Liberal Democrat group leader at Babergh, said it was not the right time for a merger.
"I'm relieved because there are differences financially between the two councils," she said.
"Mid-Suffolk does have higher council tax and car park charges and people in Babergh would have lost out.
"We shall still make big savings and now we have breathing space to concentrate on the full integration of services, while both councils retain control of their own council tax and spending."