New police investigation centre to open near Ipswich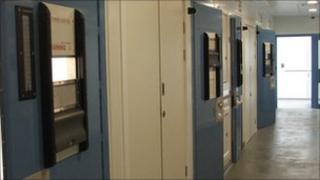 Suffolk Police is opening the first of two police investigation centres on Friday, where those arrested will be taken to instead of a police station.
Police say the centres will free up more of their officers' time.
Ch Insp Roger Wiltshire said: "Good facilities facilitate good investigations."
Solicitors in the centre of Ipswich, near the police station, have questioned the decision to build the facility on the edge of the town.
The building has 30 detention cells - measuring 2.4 x 3m each - forensic facilities and a visiting room.
Identity parades will be shown via laptop, and a video conferencing room will allow meetings between staff at other investigation centres in Norfolk.
"Most of the custody estate across both counties is very old and although it's been improved it's grown generically and individually on each site," said Ch Insp Wiltshire.
"What this has allowed us to do is start with a clean sheet of paper and the results are very impressive."
Location concerns
Ian Duckworth is a solicitor at Saunders Goodin Riddleston in Ipswich.
He said he was impressed with the new facility but was disappointed it had been built 5 miles (8km) away from the centre of Ipswich, where many solicitors have offices.
"We could have a five minute walk down to the station, now it's going to be a half hour and if police aren't ready when we go for interview we've got to come back again," he said.
He added: "Answering bail is another issue - if people get on a bus from the centre of town, are they going to arrive late and cause delays for officers?"
Ch Insp Wiltshire said these concerns had been considered.
"You don't get these sorts of plots in the middle of town," he said.
"We've deliberately built all the police investigation centres near main roads and transport links so we hope the people who have to come here can get here as easily as possible."
The centres have been funded by a private finance agreement between Suffolk and Norfolk police.
The centre in Martlesham opens on Friday 10 June and the one in Bury St Edmunds will open in July.
In Norfolk, there are already centres in Aylsham, Wymondham and Kings Lynn. One in Gorleston opens in November.