Rare fen raft spiders released at Suffolk fen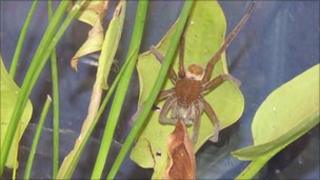 Conservationists in Suffolk are releasing some of Britain's rarest spiders into specially-created habitats to try to save them from extinction.
The fen raft spiders will be released at Redgrave and Lopham Fen, where the species was first identified in 1956.
Only three populations of the spider have been noted in the UK - in Suffolk, East Sussex and Swansea.
Dr Helen Smith, who is overseeing the project, said the spiders died "because of the way we've treated our wetlands."
The spider is listed as "endangered" on the UK Red List of species of extreme rarity and is protected by law under the Wildlife and Countryside Act (1981).
The spider became critically endangered as the fen dried out when water was abstracted for public use.
Facing extinction
Although water levels have been restored on the fen and other wetland species have begun to thrive again, the spider population has not responded and its numbers have remained critically low.
Dr Smith has been working at the Redgrave and Lopham Fen, in partnership with Natural England and the Suffolk Wildlife Trust, on the ongoing project to restore spider numbers.
"There is always a danger that we could lose them altogether and they could become extinct," she said.
"It's really hard to know how many spiders there were at the lowest point but it's likely there were just tens of adult females.
"We're lucky to have them still."
Dr Smith has been rearing the spiders in her home.
"I am very privileged to have them living in my house - that's where we do the captive rearing programme," she said.
"I can share their secret lives and learn things about them I never would see in the wild.
"We need to know how they fit in the whole eco-system. It's important to protect them for the future."
Future preservation
A Species Action Plan was drawn up as part of Britain's response to the Rio Earth Summit on Biodiversity.
It aims to increase the number of UK populations of fen raft spiders from three to 12 by 2020, making them less vulnerable to extinction.
Conservation work has already begun. In 2010 a captive breeding programme was developed with a view to establishing new colonies.
The spiders were reared in captivity for the first three months of their lives because far more survive in captivity than in the wild.
They were released on Suffolk Wildlife Trust reserves further along the River Waveney, and new populations are being encouraged.
In 2011, a series of pond chains are being excavated to link the old and new population centres, and expand the suitable habitat for the spiders.
It is also hoped new colonies can be established further along the River Waveney on Suffolk Wildlife Trust reserves and in parts of the Norfolk Broads.