World War I Suffolk hall moves to new home in Essex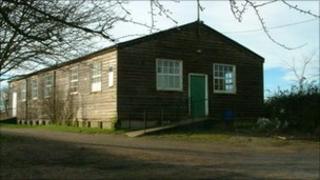 An 87-year-old village hall in Suffolk is being moved to a new home for the second time.
The hall, at Drinkstone, near Stowmarket, was originally an officers' mess hut at nearby Great Ashfield Airfield during World War I.
It was damaged in a fire last September, ending its working life.
The hall has now been dismantled and is due to be moved to a museum and wildlife centre on the WWI airfield at Stow Maries, near Chelmsford, Essex.
The building had served as Drinkstone's village hall since 1924 and was in almost daily use until the catastrophic fire, caused by an electrical fault.
Horse and cart
After the fire, which damaged the hall's front end, aviation museums and enthusiasts were approached and Stow Maries Aerodrome Museum expressed an interest in re-erecting the building as offices, an education centre and lecture room.
The hall measures 71ft (22m) long by 29ft feet (9m) wide and was constructed in seven separate bays, each one about 10ft (3m) wide.
It was dismantled during April and is due to be moved to its new home on Sunday, echoing the events of 87 years ago when it was brought in sections from Great Ashfield to Drinkstone by horse and cart.
Sally Andrews, chair of Drinkstone Village Hall management committee, said: "Although we're sad to wave goodbye to an old friend, we're absolutely thrilled that our hall will live on and continue to be appreciated and actively enjoyed at Stow Maries.
"Here in Drinkstone we must knuckle down to raising the cash to build a brand new hall, to rise Phoenix-like on the same site and we'll need all the help we can get."