Suffolk Council delays decision on Andrea Hill's future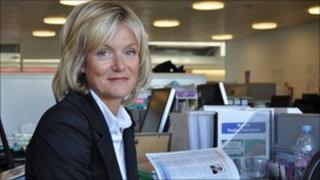 A decision on the future of Suffolk County Council's chief executive Andrea Hill who has been criticised over her £218,000 salary, has been adjourned.
The authority set up a disciplinary panel amid concerns over expenses claims and staffing issues.
Ms Hill has been on extended leave since Easter during an investigation into whistle-blower allegations.
The dismissals appeals panel said some issues needed "further investigation" and will meet again on 24 June.
A spokesman for Suffolk County Council said: "The Dismissals Appeals Committee received a preliminary report into whistle blowing allegations made against Andrea Hill.
"The committee was able to resolve some of the allegations however it felt that a number required further investigation.
"In addition as a result of Freedom of Information requests into expense claims by Andrea Hill the committee has asked the investigation team to review those claims.
"Andrea Hill will remain on extended leave by mutual consent until that date.
"Suffolk County Council is anxious that all investigations are completed and resolved as soon as possible in the interests of all those involved."