Upgrade for Felixstowe Dock Spur and Ipswich roundabouts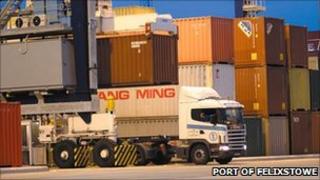 Two roundabouts on the A14 are to be upgraded in a project being funded by The Port of Felixstowe.
The Highways Agency is increasing the number of lanes on and approaching the Dock Spur roundabout in Felixstowe and the Copdock interchange at Ipswich.
The work, which will last seven months, will cost the port around £4.25m.
Brian Pitkin, Highways Agency project sponsor, said: "Most of the work is done overnight with the specific intention of minimising disruption."
At the Dock Spur junction the Highways Agency is building a larger roundabout, putting in traffic lights, a pedestrian crossing with signals and increasing the number of lanes.
Lorries frequently overturn at the roundabout, but Mr Pitkin said traffic flow was as big a concern as safety.
Increased capacity
He said: "When you do install traffic lights on a roundabout it can increase capacity and that should be the case at Dock Spur.
"Copdock is much more of a problem in terms of congestion and we're widening the northbound approach on the A12 with three lanes and that should really help to improve capacity and new traffic lights will help to improve the flow.
"Because we are doing works, I would advise drivers to allow a little bit longer for their journeys."
During the roadworks there will be a 40mph speed limit at both junctions and a 50mph limit on the approaches.
The port is paying for the road works as part of its £300m quayside expansion.
The work is scheduled to be completed in January 2012.