Latitude Festival 2011: Suffolk trio on Lake Stage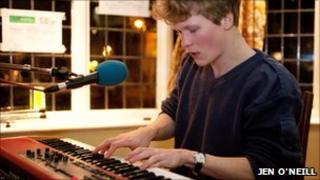 James Spankie, The B. Goodes and These Are End Times have been selected to play at Latitude Festival 2011.
BBC Radio One DJ Huw Stephens curates the Lake Stage and, for the second year, asked BBC Introducing in Suffolk to nominate three local acts.
The festival takes place at Henham Park near Southwold on the weekend of 14-17, July 2011.
"It worked well last year, so let's do it again," said Huw.
In 2010 The Cads, These Ghosts and Cevanne played the Lake Stage, which is at the heart of the festival site.
The Cads went on to tour Germany with Darwin Deez, These Ghosts received wide acclaim for their debut album and Cevanne got to record at Maida Vale and write for the London Symphony Orchestra.
Class of 2011
Sudbury's James Spankie will be the first on stage in 2011 and hopes to be accompanied by a nine piece band.
"I've been to every Latitude but one," he said. "I always go to the Lake Stage and watch bands there and think to myself, 'damn, I really, really want to play there'.
"Now I've got the chance I can't wait. I'd better start rehearsing."
The B. Goodes have lush harmonies, instantly catchy songs and sound like they could be a bonafide sixties band.
The chance to play in front of thousands of people on the Saturday of Latitude is just reward for a couple of years' hard work.
"It's amazing," said singer and guitarist John Brett. "We're all very excited."
"We played in a pub last night littered with broken pianos and hardly anyone there.
"You have an experience like that, which is still fun, and then the next day there's this bombshell which is literally the best thing that's ever happened to us."
These Are End Times will open the Lake Stage on the Sunday.
Their music is dark, epic and anything but conventional.
"It's the chance to depress more people than we've ever depressed in one go," said guitarist and songwriter Martyn Peck.
The Lake Stage has a history of supporting emerging talent - including The xx, Bombay Bicycle Club and Marina and the Diamonds.
This year Huw Stephens has recruited the likes of Dutch Uncles, Admiral Fallow, Gwilym Gold, Cock n Bull Kid and Ghostpoet.
Ipswich rapper DELS is also playing the Lake Stage, in what will be his first appearance in the county since the release of his debut album, GOB.
Ed Sheeran, who BBC Introducing in Suffolk has been supporting since 2007, has been picked to play the main stage.