Olympic torch to visit Suffolk on way to London 2012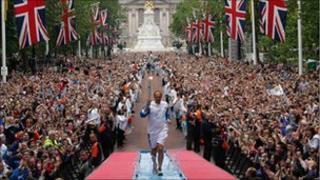 The Olympic torch is to stay overnight in Suffolk on its way to the London 2012 Games, it has been announced.
The torch will be taken to Christchurch Park, Ipswich, on 5 July, 2012, after being carried over the border from Norfolk in the Olympic torch relay.
A public party featuring live music will be held in the park.
Ipswich archer Nicky Hunt has been nominated to be a torch bearer. "It's a fabulous start to the Olympics for everyone in Suffolk," she said.
The Olympic torch will start a 70-day tour of the country at Land's End, Cornwall on 19 May 2012.
Games 'magic'
After an estimated 8,000 mile (12,874km) trip it will finally reach the Olympic Stadium in London on 27 July, in time for the lighting of the cauldron at the opening ceremony.
The full route is to be confirmed.
Ipswich marathon runner Helen Decker and paralympic cyclist Brian Alldis, from Bury St Edmunds, have also been nominated by Suffolk County Council to carry the torch on part of its journey through the county.
Mr Alldis said: "It will be an honour to have it here and bring it to the minds of people that the Olympics is just down the road.
"It would be a dream come true to carry the torch."
Councillor Kathy Gosling, Suffolk County Council's portfolio holder for sport, said: "We're absolutely delighted that our county town will be hosting one of the prestigious Olympic torch relay evening celebration events.
"It will be a fantastic experience that will bring the magic of the London 2012 Olympic and Paralympic Games to Suffolk for everybody to enjoy."
The London Organising Committee of the Olympic Games and Paralympic Games (Locog) is looking for 8,000 'truly inspirational' people to carry the torch on its journey throughout the UK.
You can nominate someone via the London 2012 website until Wednesday, 29 June 2011.