Suffolk police knife amnesty nets 2,944 blades so far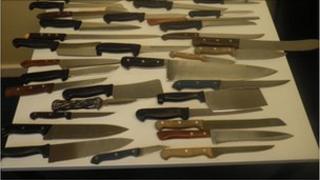 Almost 3,000 knives have been handed in to Suffolk police as part of a year-long amnesty.
The campaign began in December 2010 and up to the end of April 2,944 blades had been deposited.
There are four fixed bins outside Ipswich, Bury St Edmunds, Lowestoft and Mildenhall police stations.
Two red mobile amnesty bins are touring other police stations across Suffolk and will be in Felixstowe for the next two months.
The campaign is being supported by Holly Watson, 17, whose brother Lewis, 23, was stabbed to death in Sudbury in 2009.
Melted down
Ms Watson said: "It's quite overwhelming that so many people have come and binned their blades.
"I've been working with the police and filmed a community television ad which is being finalised."
Insp Jane Hertzog said: "I think it's amazing that so many knives have been surrendered. I'm really pleased with those results.
"At the end of the year we'll be counting up the knives and then they'll be properly melted down."