Police make 19 arrests at Ipswich vs Norwich match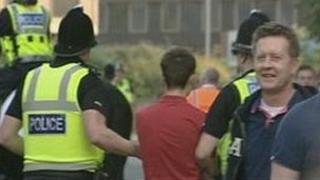 Nineteen people were arrested as trouble flared at the Ipswich Town and Norwich City derby match.
Thirteen football fans were also ejected from Town's Portman Road ground during the match on Thursday night, which City won 5-1.
Some home fans threw missiles including bottles, glasses, coins, batteries and fireworks at away supporters and police outside the stadium.
Police said the troublemakers were a "significant minority".
Supt John Everett, of Suffolk Police, said he was disappointed at the number of arrests.
Fans held up
He said: "This was the first time in 13 years that we have had an evening fixture and we've had more issues this time in terms of disorder and problems that we've had on many other previous occasions when we've played the local derby."
Some away fans missed the start of the match after they were held up by police dealing with the trouble.
"We were getting a right assortment of missiles thrown, both at away supporters and at police officers - everything from bottles, glasses, batteries, coins and fireworks," said Supt Everett.
"On the grounds of safety weren't able to push the Norwich supporters through and get them in the ground."
He said he had been disappointed at the behaviour of some Ipswich fans.
"It's a significant minority - not ones or twos last night - a real minority who seemed intent on spoiling the occasion for all those decent people who went down and, despite the scoreline, enjoyed the match.
"Generally speaking, the vast majority of Ipswich supporters were well behaved, as were the Norwich supporters."
But Supt Everett said it had been a successful police operation overall.
"We have managed to prevent any serious disorder and serious damage and contained the situation, so I'm reasonably happy with that and the way that's gone.
"But at times, certainly immediately prior to kick-off and outside the visitors' and on the way back to the railway station after the match, it was very challenging for the police officers who were present and times when we were very stretched as well."