Nuclear concerns after Japan earthquake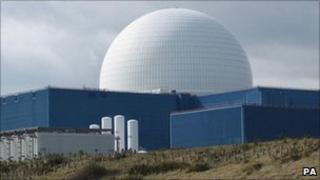 New concerns over nuclear energy in the East of England have been raised in the wake of the disasters which struck the power stations in Japan.
The devastating earthquake struck Japan on 11 March.
It left the nuclear reactors at Fukushima with no electricity.
An hour later the tsunami wiped out the back-up diesel generators.
The cooling system failed which caused the first of several explosions and radiation leaks.
Back-up systems
EDF Energy, the UK's largest nuclear operator, which runs Sizewell in Suffolk, is keen to show that it could not happen in England.
The back-up systems for the pressurised water reactor at Sizewell include four separate diesel generators, which would be used if the electricity failed.
There is a 10m (33ft) barrier for sea defences, with a 5m (16ft) metre barrier behind it.
If the sea could no longer be used for Sizewell's cooling system there are two huge "car radiators" to take the heat away.
The Japanese government has placed a 20km (12 mile)exclusion zone around Fukushima.
Stay-indoors zone
There is a 30km (19 mile) stay-indoors zone but the United States exclusion zone is 80km (50 miles).
Stop Nuclear Power has superimposed these over East Anglia to show how far they would reach if there was a disaster here.
The American zone would extend from Cromer in Norfolk to beyond Colchester in Essex.
Mell Harrison, from Stop Nuclear Power UK, said she believed the back-up plans were not good enough.
This week she joined protests outside EDF's headquarters in London.
Protest camp
Next weekend she will be at a protest camp on the beach at Sizewell which will mark the 25th anniversary of Chernobyl.
She said: "When Fukushima first occurred people said there's no way it's going to be as bad as Chernobyl and now the level is the same.
"We're not going to know the full extent of it until the next generation and to me that's scary.
"Sizewell B, when they reopened after seven months, a little while later they closed down again for another few days.
"Now, we have the Freedom of Information on that accident and it says in there that it is still vulnerable.
"To me it says we need to shut them down and we need to shut them down as soon as possible."
Andy Spurr, one of the managing directors of EDF, said: "We will review our own operation but more importantly we'll review the lessons that came out of the Nuclear Installations Inspectorate's report as well and we may decide to put additional strength and depth in place.
"It's too early to talk about any of the details but I would describe it as, our minds are very open, in terms of looking and reviewing and learning."
The BBC Politics Show in the East is broadcast at 1400 GMT on Sunday.