More than 20 Suffolk firefighters sent to cat on roof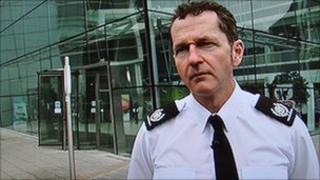 A fire service has admitted it over-reacted when it sent five vehicles and more than 20 firefighters to rescue a cat from a roof.
Crews from Leiston, Bungay, Felixstowe and Bury St Edmunds in Suffolk were dispatched to deal with the incident in Roberts Road, Leiston, on Monday.
The cat was rescued by the Leiston crew and the other crews were stood down.
Members of the public used Facebook to accuse Suffolk Fire and Rescue of over-reacting to the incident.
The service uses the social networking site to alert people to its activities.
Turntable ladder
One user, Michael Ford, described it as "over the top" while another posted: "Meanwhile when four fire engines are called to a cat there's somebody human in danger!"
The fire service said it had amended its policy for future incidents.
Teresa Saunders, from Leiston, heard the cat calling from a neighbour's roof and raised the alarm after an unsuccessful attempt to lure it down herself.
Four fire engines and a turntable ladder were sent out.
Karl Rolfe, area manager at the fire service, said it automatically deployed several engines and firefighters for incidents where a ladder might be needed to go higher than the first floor.
He said the fire service had now amended its policy.