Ipswich march over Suffolk library closures plan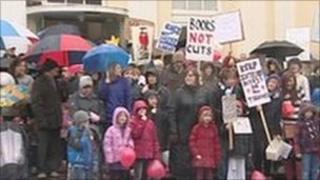 Hundreds of protesters have marched through Ipswich against planned closures of branch libraries in Suffolk.
The Conservative-run county council has agreed to make savings of £42.5m in the next financial year following a drop in funding from the government.
It means 29 out of 44 libraries across Suffolk could close to save money.
"We feel that library services have been seen as an easy target," protester Abigail Barker said.
"This march is also a chance for us to celebrate the wonderful service currently provided by our county's public library service, to show them they are supported by their community."
The march attracted about 300 people and set off from Endeavour House at 1100 BST, walking through the streets to Giles Circus.
Former council leader Jeremy Pembroke, who retired earlier this week, had said the council's budget is not of its own making but the authority has to "steer Suffolk through challenging times ahead".