Suffolk bus service subsidy cuts take effect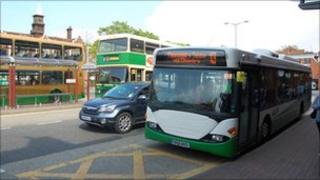 Bus services are being withdrawn or reduced as £2.2m of cuts in public subsidies take effect across Suffolk.
The Conservative-run county council is making overall budget cuts of £42.5m (8.4%) in 2011/12.
Ninety three bus routes are affected by the changes, with some villages losing their regular services.
Councillor Guy McGregor, transport spokesman, said: "Alternatives are available using other bus services, rail or demand responsive services."
Suffolk County Council is reducing its subsidies to public transport by 50%.
Some 30 bus routes are disappearing completely, alongside all subsidised Sunday and evening services.
One example is the 376 Hadleigh to Bury St Edmunds service which is being withdrawn.
'Door-to-door'
Aster Bridger, who lives in Brettenham which is on the route, said: "One a week or one a fortnight is all we need to go into Bury.
"A lot of elderly people go on it once or twice a week just to get out.
"My husband will have to take me to Lavenham to take the bus."
The county council says its Suffolk Links taxi buses, known as demand responsive transport (DRT), are available to plug the gaps, including one serving Brettenham.
Mr McGregor, portfolio holder for transport, said: "It is effectively a door-to-door service for people living in rural areas. We're not cutting back on community transport or demand responsive transport.
"It is not possible in the modern day, particularly when the government has cut £35m in our revenue funding, to carry on with the level of support which we had in the past."
Other county council cuts affecting public transport include the withdrawal of the Explore discount card for young people, saving £1.7m.
The park and ride service at Bury Road, Ipswich has already ended, saving £150,000.