Don't be a Tosser 2011 targets fly tipping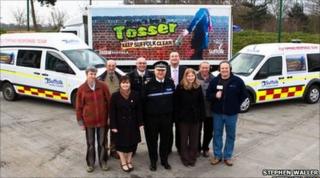 BBC Suffolk's anti-litter campaign is back!
For the fourth year, Don't be a Tosser will work to rid Suffolk of rubbish and make it the cleanest county in the UK.
This year, the campaign is working with Suffolk County Council to launch a fast response unit to tackle fly tipping and plastic bottles filled with urine.
"I want people to sit up and discuss the problem of litter and do something about it," said BBC Radio Suffolk Breakfast Show presenter Mark Murphy.
Don't be a Tosser was launched by the Breakfast Show team in 2008 and has highlighted the problems caused by litter.
"I was driving along the A14 and was stunned by the amount of rubbish on our roadside verges and central reservation," said Mark.
"It looked disgusting and made me ashamed of my home county of Suffolk."
Over the past three campaigns, Don't be a Tosser has organised and supported litter picks at nature reserves, beauty spots, road sides and woodlands around the county.
Fly tipping
This year, Suffolk County Council has introduced a dedicated team to quickly deal with reports of fly tipping.
The county's borough and district councils are also backing the campaign and Suffolk's MPs will be finding out for themselves just how bad the situation is.
The Suffolk Chamber of Commerce is also getting involved and is encouraging businesses to take more responsibility for their land and surrounding premises.
Women's Institute branches are taking part and celebrities including Kirstie Allsopp, Jimmy Doherty and Bill Bryson are backing the message.
"We need to continue to do something about this problem before we disappear in a mountain of garbage," said Mark.
Get involved
You can support Don't be a Tosser by helping out with a Suffolk Spring Clean 2011 litter pick. Contact your local borough and district officer, on the number below:
Babergh District Council: Daniel Whymark, 01473 826622
Forest Heath District Council: Lee Williams, 01638 719405
Ipswich Borough Council: Glynis Wood, 01473 432994
Mid Suffolk District Council: Sarah Carter, 01449 724946
St Edmundsbury Borough Council: Mark Walsh, 01284 757300
Suffolk Coastal District Council: Viv Hotton, 01394 444000
Waveney District Council: Mike Daniels, 01502 527158
"If we all work together I think we can make littering as anti-social as drink driving," said Mark.
"So let's all work together and organise a clear up in our neighbourhood, school or workplace."
If you are planning to organise a litter pick event please keep the boroughs and districts informed to ensure that your event gets as much support as possible.
Once you have completed your spring clean please let us know how much rubbish you have collected and send any pictures you have from the day.
E-mail: mark.murphy@bbc.co.uk