Skull scan for Archbishop of Canterbury Simon Theobald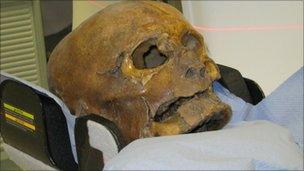 A CT scan has been carried out on the mummified skull of a former Archbishop of Canterbury who was beheaded in 1381.
Images from the scan carried out at the West Suffolk Hospital will be used to create a facial likeness of Simon Theobald - "Simon of Sudbury" - who was also once Lord Chancellor of England.
He was killed outside the Tower of London during the Peasants' Revolt.
Axe marks can be seen on the back of the skull, which usually rests at St Gregory's Church in Sudbury.
Professor Caroline Wilkinson from Dundee University is overseeing the project.
"I have dealt with ancient Egyptians and other preserved bodies, bog bodies, so this isn't unusual for me.
"The unusual thing was seeing the head in the hole in the wall in the church.
"I was expecting the bone to be a little bit more fragile, maybe a little bit crumbly, because this has been in the wall of a church for 600 years, but actually the bone is very sturdy - it doesn't look as if there's been too much damage."
Jenny Seggar, curate at St Gregory's, said Theobald was born into a prominent Sudbury family.
"He was brought up in the area, went to university in Cambridge and Paris then he took various senior church jobs until he became Archbishop of Canterbury," she said.
The church hopes the facial reconstruction will be complete by the end of summer.
Ms Seggar said: "It's got huge implications for the children of Sudbury who study Simon as part of their curriculum activities.
"And it's got huge implications for the church - after all we get to find out what one of our most prominent members looked like for the first time in 600 years.
"It's just the most exciting thing to happen in ages."
Related Internet Links
The BBC is not responsible for the content of external sites.