New acting head named by Suffolk mental health trust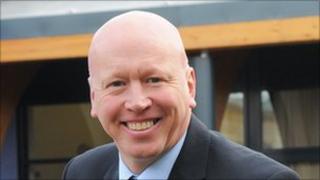 A new acting head of the Suffolk Mental Health Partnership NHS Trust has been appointed as it moves towards merging with its neighbouring authority.
Plans are in place to merge with the Norfolk and Waveney Mental Health NHS Foundation Trust (NWMH) later this year.
NWMH's chief executive Aidan Thomas has been appointed acting interim chief executive at the Suffolk trust.
While taking on the new post, he will continue in his job at the NWMH.
He beings his new appointment this week.
Mark Halladay, the current chief executive of the Suffolk Mental Health Trust, will leave the organisation at the end of March.
'Financial stability'
Mr Thomas will become the overall chief executive when the two trusts merge later in the year.
Suffolk trust chairman Lord Newton of Braintree said: "I am extremely grateful to Mark for the approach he has taken.
"His tenure has seen it go from financial difficulty to financial stability.
"We now look forward to the opening of our new mental health wards on the Ipswich Hospital site, which will be the most up-to-date mental health inpatient facilities in England."
Mr Thomas said: "The trusts will soon be in a position where we will be able to offer the staff of the combined trust greater opportunities in terms of learning and development, and service users with increased choices for care subject to a final decision by regulators."