Andrea Skevington re-writes the Bible for children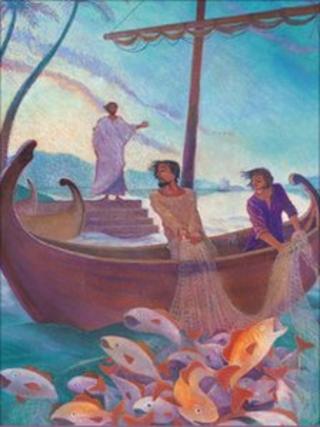 Woodbridge based writer Andrea Skevington has retold the Bible in 12 simple chapters in a new version aimed at children.
The Lion Classic Bible, illustrated by Sophy Williams, is published on 18 March.
"You don't have the freedom to change the ending, but you do have the freedom to be in it and develop empathy with the characters," said Andrea.
In the beginning...
"One of the great things was that I didn't have a great deal of time to think about it," said Andrea.
"I had a year to do the whole lot, so I couldn't afford the luxury of thinking 'oh dear I can't do this'.
"I was given a very rough outline, 12 chapters and for each one a couple of suggestions of stories which would go in that chapter, so I tackled it chapter by chapter.
"I would start off by reading the bits of the Bible that I thought were relevant and then read a range of books and commentaries about it, so I could get a flavour of how different people had interpreted it over the years.
"Then it was finding a way of sinking down into the text and imagining being there, and try telling it as a story."
Andrea said it is a good time for children to be getting into books and reading.
"There are so many brilliant children's novels around at the moment," she said.
"There's been a real renaissance in children's literature and many children are used to reading long books with quite deep and complicated themes.
"I had in mind someone who was about 10-years-old but I just write it in a way that I feel is engaging.
"You have to be aware that you are writing for people with limited life experience, so who might be unfamiliar with some of the ideas and some of the vocabulary, so you have to tactfully put those meanings in, but I hope it will be readable for all sorts of people.
"I wanted it to be so that when you were reading it, you would want to keep reading, so it wasn't too chopped up into little bits, because we often do that with the Bible."
Faith in writing
Despite struggling at school because of her dyslexia, Andrea went on to graduate from Cambridge University with a degree in English Literature.
Her other work includes The Story of Jesus, books on happiness and friendship as well as poetry.
She is a practicing Christian and takes an active role in the life of St John's in Woodbridge.
She says having a strong faith of her own is an important part of her writing.
"It affected the way I did it, in as much as I wanted it to be a book that communicated God's love, that God loves and cares for people and wants to be involved in their lives.
"The Bible was written by people who believed in it.
"All the different books were by people who believed what they wrote.
"It's not a balance book, it's a book that's passionate and committed, so to try and rewrite it without that would be quite hard."
Andrea will be interviewed at St John's Cafe Church Special at 7pm on 20 March as part of The Book That Changed the World, which also celebrates the 400th Anniversary of the King James Bible.