Suffolk drug treatment team says it is safe from cuts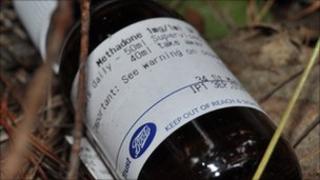 Suffolk's drug action team says front-line treatment will not be affected by proposals to cut the county council's budget by £42.5m.
The Conservative-controlled council would cut the funding of the Drug and Alcohol Action Team (DAAT) and the street prostitution strategy.
DAAT says it helps treat up to 1,500 drug users a year.
Simon Aalders, DAAT co-ordinator, said: "We're confident that our front-line services aren't going to be reduced."
DAAT is an umbrella organisation including Suffolk County Council, the district councils, the NHS, the police, prisons, probation service and voluntary groups.
The county council's total budget savings represent a cut of 8.4% on last year's spending. This does not include the education budget, which is funded by a separate grant from central government.
The council has identified £100,000 that can be saved by reducing its contribution to DAAT and other community projects.
A further £450,000 is being cut in the social inclusion and diversity unit which has overseen the Make A Change team, which was set up in the wake of the 2006 murders of five women who were drug addicts working as prostitutes in Ipswich.
'Slippery slope'
The Church of England has concerns about the scale of the cuts.
The Reverend Paul Daltry, who deals with church and community engagement in Ipswich, said: "If you prevent people from sliding further down the slippery slope, you are going to save society enormous sums of money whether it's through health intervention or police and criminal justice intervention."
DAAT said it would have to cut back on its public information campaigns, but providing treatment for drug-users would not be affected.
Mr Aalders said: "What we're looking to do is make sure frontline services are protected, but for things like Christmas drink-driving campaigns, we'd be looking for sponsorship to cover the costs."
The county recently made a decision to use different companies to provide drug and alcohol treatments to its clients.
Local rehabilitation charities including the Iceni Project in Ipswich, Focus12 in Bury St Edmunds and Norwich-based Norcas have lost their contracts and are being replaced by Open Road and the Crime Reduction Initiative.
DAAT said that has been driven by the need to make savings.
"We have a set of new contracts coming in in April and we have made sure that they are priced within the money that we have [to spend]," said Mr Aalders.
"There was some concern about funding for the Make A Change team, but the DAAT were able to provide £80,000 to make sure that carries on for this year.
"We now have some time to plan and make sure that any potential reductions in the future don't have a damaging impact."
A Suffolk County Council spokesperson said: "The DAAT partnership has contributed £80,000 to the Make A Change team and this removes the risk that the strategy will be affected.
"The strategy is a priority and that is why the partnership has supported the excellent work of the team for 2011/12."
Suffolk County Council is voting on its 2011/12 budget on Thursday, 17 February.
BBC Suffolk's Any Suffolk Questions? programme looking at county council cuts is broadcast at 1800-1900 GMT on Wednesday, 16 February.