Care home owners' fears at Suffolk County Council cuts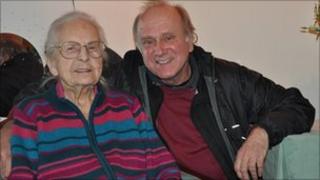 Private care home owners in Suffolk say public spending cuts could cause some of them to go out of business.
Suffolk County Council is proposing to sell or close its 16 care homes for older people.
The county would then use private sector providers for care places, but it would pay them 4% less.
Prema Fairburn, vice chair of the Suffolk Association of Independent Care Providers, said: "Small providers will probably go under."
Crabbe Street in Ipswich, which has 31 residents, is one of the 16 local authority care homes.
Steve Wood, whose 100-year-old mother Greta lives there, said: "There was a lot of anger and a lot of people were bewildered and unsure of what it meant for their loved ones.
"I feel it's being done in a rather arbitrary manner at the moment, but I can accept that selling is the best with the least disruption.
"My real concern, and I've had no answers on this, is that if this particular home is not sold quickly, it will decline, people will lose heart and it will become a de facto place to close. Closure is not an option for this home."
Crabbe Street resident Norma Pearce, 74, said: "If you're going to say closure, a lot of these dear old souls won't make any life where they move on and they won't know where they are and what they're doing."
Suffolk County Council's care homes provide 526 places and the authority pays for 2,300 places in the private sector.
The council is proposing to make £12m in savings from the adult care budget in 2011/12.
Some £3.25m of these savings would be made by cutting the amount it pays for private sector places.
Ms Fairburn, who is also the director of the private Old Rectory Nursing Home in Barham, said the current cost of care for her residents is £450 a week, while the council is proposing to pay £362.
She said: "Members are concerned that the quality of care is going to be compromised.
"If we have residents who pay privately, the shortfall is met by them and they're subsidising a lot of county council residents, but this can't go on.
"In view of these cuts, more and more providers are going to refuse to take county council-funded residents because they won't be able to manage."
Councillor Colin Noble (Conservative), portfolio holder for Adult and Community Services, said: "For 25% of the care beds that we buy in the private sector, we actually pay a rate of £502, so we pay different rates to different homes because different clients have different needs.
"The reality is that we're something like 40% of the market and they [private care homes] get continuity of payment, and the acid test here is that they do do business with us.
"Nobody is suggesting remotely that anyone we look after today will not be looked after in the future. It is who is the provider in that loving, warm, family environment."
The results of the public consultation into care homes will be considered at Suffolk County Council's Cabinet meeting on 29 March.
BBC Suffolk's Any Suffolk Questions? programme looking at county council cuts is broadcast at 1800-1900 GMT on Wednesday, 16 February.